Hi gang,
Before I go too deep down this rabbit hole, I wanted your feedback on a pcpartpicker-like compatibility-checker builder google spreadsheet I'm putting together, that anyone here can use/modify.
Wondering how you organize your purchasing/procurement and maybe inventory(?) using spreadsheets, if at all; as I'm starting to lose track of things in my 5 node home cluster.
Idea is to select a CPU like so: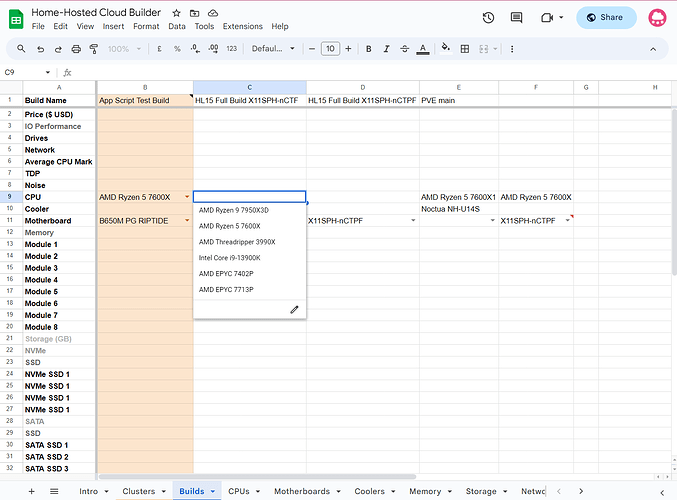 Which will then filter out all the incompatible motherboards from the motherboards cell (a data validation drop-down tick appears to select compatible motherboards):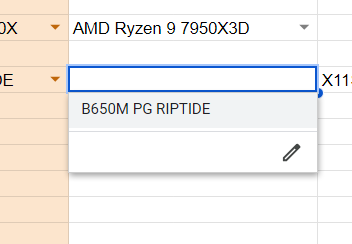 Whereas before, it listed all available ones: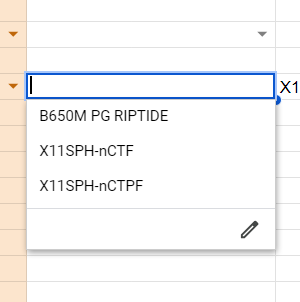 That's the idea I would appreciate your feedback on, especially if you went through a similar process recently and had to work out all the details in your head(?)
What compatibility criteria did you care most about, and why?
Warning: this prototype doesn't really work yet, but feel free to contribute or fork as you wish. Obviously it won't scale infinitely—and neither will my home cloud!
The magic is achieved by Apps Script: go to Extensions > Apps Script and you should be able to change/modify the code. This is the first time I write .gs, so all bugs are ChatGPT's fault

PS: Since data entry can become a huge time-sync, I also relied on ChatGPT to do most of the work, so I just copy-pasted in the results, and it gets about 90% of the details right. You can see how I filled up the CPUs sheet here: https://chat.openai.com/share/a9d887dd-1c2d-4162-aa8e-ff68e4c75649
@Glitch3dPenguin - can I use cooler list to prefill my coolers sheet?